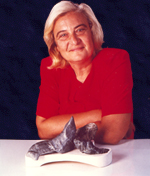 Chiara Padrini is a world-reknowned Suiseki collector and teacher from Italy; President of Italian National College Bonsai and Suiseki Instructors IBS. You can view her website at www.Padrini.it
In 1990 I began in interest in Suiseki, developing a collection and lecturing in different Italian Clubs, some radio installments about Bonsai and on local TV. I established the first Suiseki Club in Turin, and developing the first Italian videotape and newsletter on Suiseki. Since 1989 I have been published in Italian Bonsai magazines, Spanish, Swiss, French, Czechia, and U.S.A magazines. Managing editor for two years of the Bonsainsieme Bonsai Club newspaper.
View her website for her complete list of credits, suiseki collection and more information.